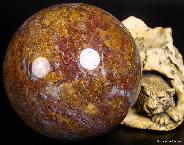 GIANT 5.7" Pietersite Sphere, Crystal Ball
Item ID:5800559
Size:5.7"x5.7"x5.7" (144x144x144 mm)
Weight:
Material:Pietersite
The Sculpture in the pictures below is NOT included in this auction. It is shown for display purposes only. The "Sphere Sculpture" is a work by the Maine artist Donna Shine. Shine Art work is in personal collections around the world, from Australia, Turkey, China, Tel Aviv, England, and throughout Canada and America. Her artworks can also be found in several galleries along the coast of Maine, as far North as Bar Harbor. The artist's work is owned by such people of note as Michael Zaslow, Bill and Hillary Clinton, Tony Randall, and many others. Rikoo's listed pieces are highly appreciated by Shine Arts. Shine is an avid collector of Rikoo's Tiger Eye, and has won over one hundred of our items. Please see feedbacks left by her (shinearts). This Sphere Sculpture is part of Donna Shine's " ENDANGERED ANIMAL SPHERE SCULPTURE " series. The Artist has chosen to grant Rikoo (eBay ID rikoo*) the exclusive rights to auction/sell this special Sculpture Series on eBay. You can find these individually created, one-of-a-kind Sphere Sculptures listed by Rikoo on occasions, when the Artist's work allows. These Sculptures will feature the ability to hold Spheres of a wide range of sizes, and will depict Animal Species of Wolves, Tigers, and Polar Bears, as well as many other Species of Animals currently Endangered because of Global Warming. Each of the Sculptor's artworks comes with a Certificate Card of Authenticity. If you want to see and know more about Donna Shine's artwork, sculpture and writings and her efforts to raise awareness about the Climate Crisis and Global Warming, please visit www.shine-arts.com. If you want to buy Donna Shine's "Sphere Sculpture" artworks, please click here (within our eBay store).
| | | |
| --- | --- | --- |
| ORIGIN: China | HARDNESS: 7 | NATURAL: 100% natural |
The sphere pictured is the exact one you will receive.
You are welcome to save or print one or more pictures below as a certification of the skull's Skullis identity.